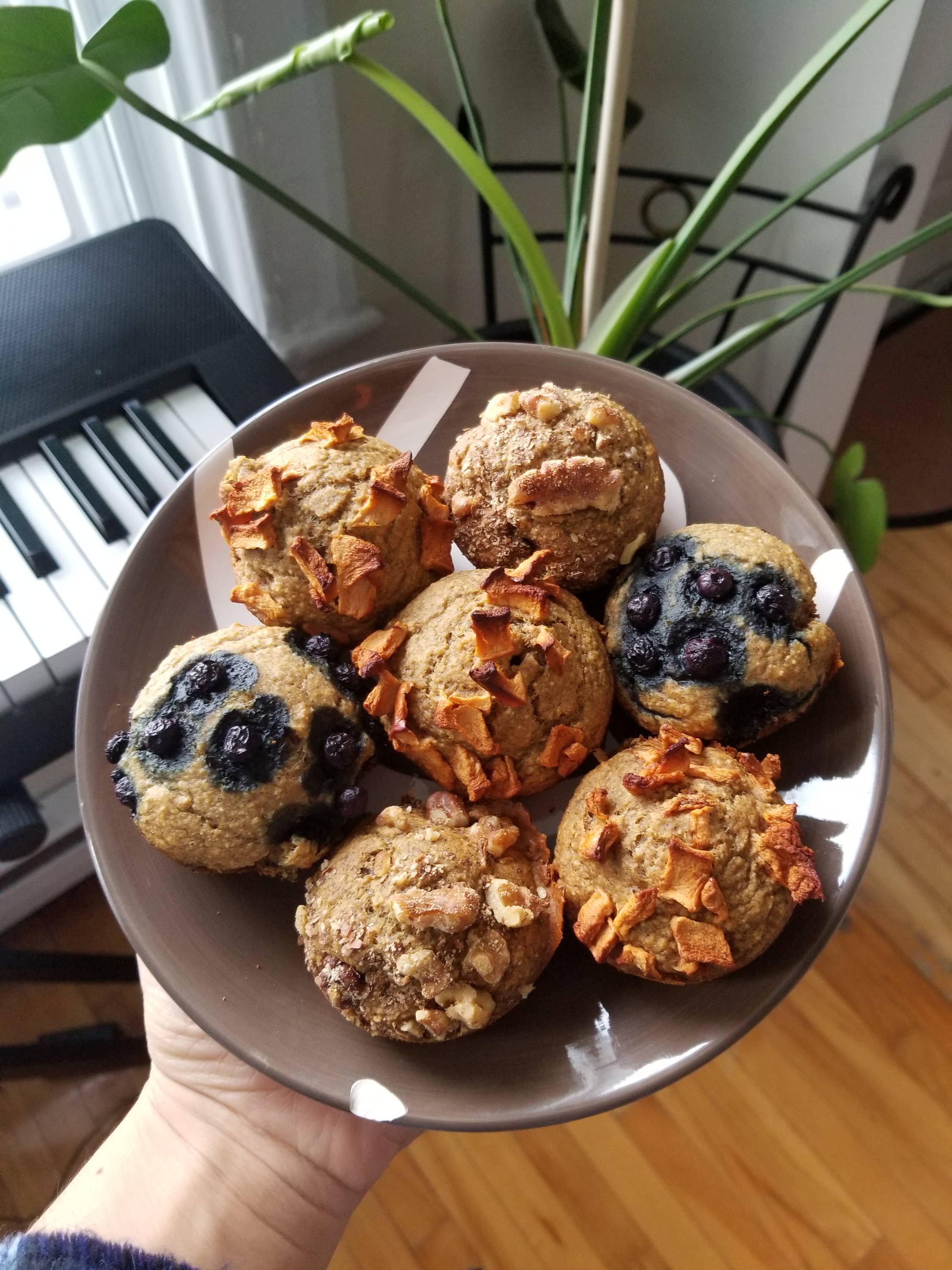 ---
Real talk, these muffins are the bomb - and they're so simple!
---
Banana Almond Oatmeal Muffin - Vegan & Gluten-Free

Prep Time 10 mins
Cook Time 15 mins
Total Time 25 mins
Servings 12 muffins
Ingredients
3 ripe bananas, medium

1 tablespoon almond butter

2 cups old fashioned (rolled) oats*

2 vegan eggs*

¼ cup dairy-free milk

¼ cup pure maple syrup

1 teaspoon baking soda

1 teaspoon vanilla

1 teaspoon cinnamon, optional
Topping ideas (optional):
⅓ cup dairy-free chocolate chips, or

⅓ cup blueberries or raspberries, or

⅓ cup dehydrated apples (mix into the batter), or

½ cup jam
Instructions
Preheat oven to 350 degrees F. Coat a muffin tin with oil (I use coconut or virgin olive oil), or set 12 silicone muffin cups on a baking sheet.

Blend the oats into a flour and set aside.

Place bananas, almond butter, vegan eggs, almond milk, maple syrup, baking soda and vanilla in a blender. Blend until smooth.

Add the oats and mix well.

Divide the batter evenly between 12 muffins cups. I pour the batter directly from my blender, using a small rubber spatula to catch the drips between muffin cups.

Add whichever toppers you like. If you're using jam, do a layer of muffin-mix, a dollop of jam, and another layer of muffin-mix for a fruit explosion-style muffin!

Bake for 15-17 minutes, until a tester inserted into the center of a muffin, comes out clean. Let cool in the pan for 10 minutes and then carefully transfer to a wire rack to finish cooling. A spatula helps to remove the muffins without scratching your tin.

Muffins freeze well. Freeze in a zip-top bag for up to 3 months.
Notes
*Blend the oats into flour using a high-powered blender. You can leave ½ of them whole-ish for a more textured muffin.
*To make one vegan egg, mix 1 tablespoon of flax meal with 3 tablespoons of water and let it set for 5 minutes before adding to the mix.
→ You could use real, free-range eggs if you are not vegan.
*Use dairy-free chocolate chips to make muffins dairy-free.
Recipe inspired by Kristine's Kitchen