The actual BEST vegan & gluten-free mac 'n cheese recipe
Yep, you read that right. I'm talking ooey-gooey, melty, chewy, creamy, crunchy mac n cheese.
Your friends will never guess that it's also vegan.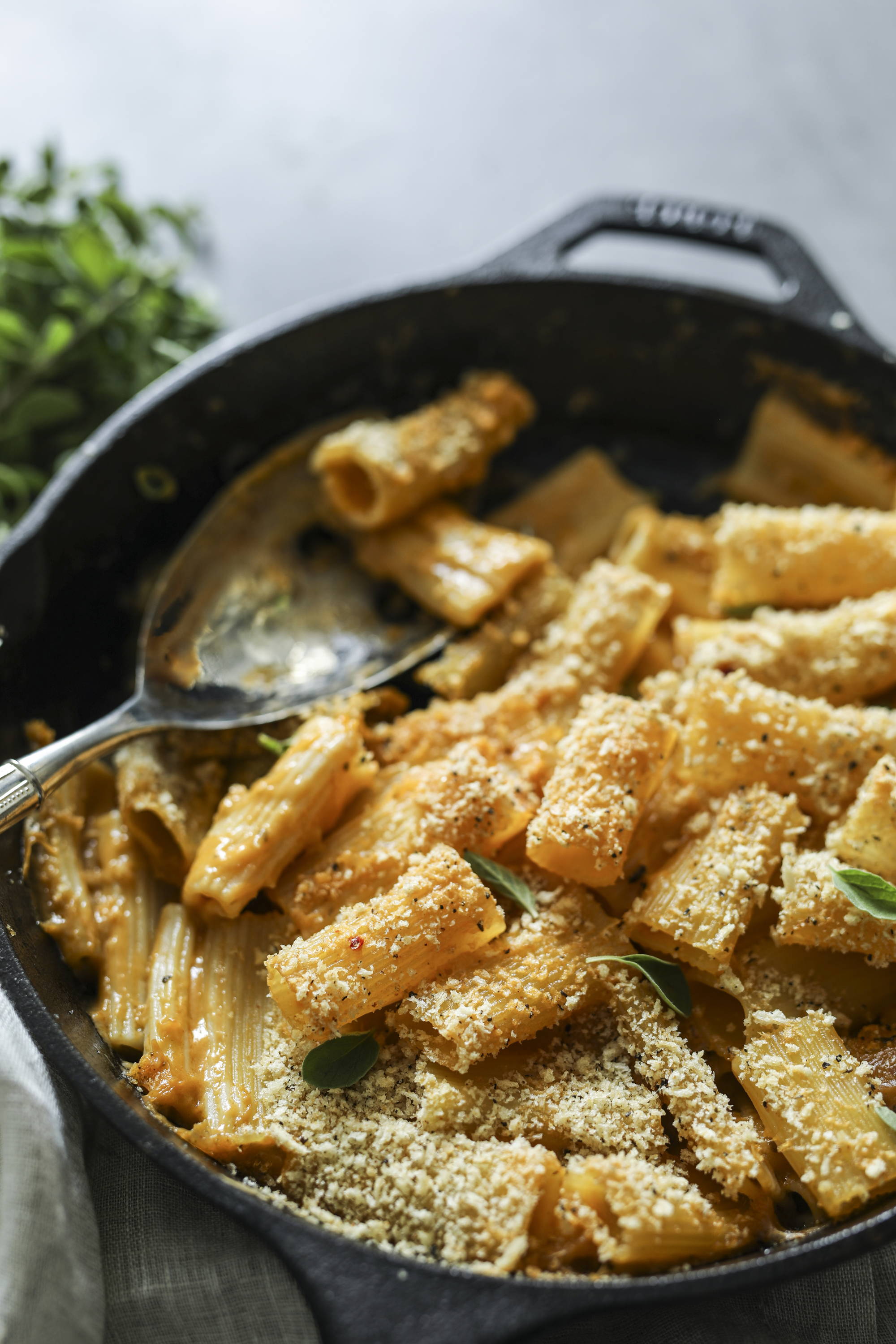 ---
Ooookay. This super cheesy, comforting, scrumptious Baked Mac 'N Cheese is 100% vegan, can be gluten-free, and really hits the spot.
I wouldn't go as far as calling this dish "healthy", but as we all know... sometimes you've just gotta feed your soul <3
This iteration of Mac is based on 3 different recipes.
The vegan mozzarella recipe is by It Doesn't Taste Like Chicken. Simple to make, and very cheese-like.
The base fauxmage is by Loving It Vegan - though I changed a few things up...
The third and final is inspired by yours truly!
All in all, you're in for a three-cheese baked bowl of DEELISH in your mouth.
---
The actual BEST vegan & gluten-free mac 'n cheese recipe
Servings: 8
Prep time: 30 minutes
Cook time: 30 minutes
Ingredients:
¼ cup raw cashews softened (boil for 10-minutes)

½ cup of water

2 ½ tablespoons tapioca starch (also called tapioca flour)

1 cup + ½ tablespoon nutritional yeast

½ teaspoon apple cider vinegar

1 ½ teaspoon salt

3 ¼ teaspoon garlic powder

3 tsp onion powder

1 and 1/2 tsp smoked paprika

1 cup (240ml) Vegetable Stock

5 cup nut milk, unsweetened & unflavoured (almond or cashew work well)

½ cup vegan butter OR preferred oil

6 Tbsp Flour, I used buckwheat - any GF blend or regular all-purpose flour will work

3 Tbsp dijon mustard

1 ½ tsp Ground Black Pepper

1 block (227g) of Gusta Original cheese, shredded (any cheese will do, like Daiya or something similar)

700g gluten-free macaroni. I like Go-Go Quinoa macaroni noodles a lot.

GF bread crumbs, optional
Directions:
Start by making a half batch of

this Vegan mozzarella by It Doesn't Taste Like Chicken

Once made, set aside

Preheat the oven to 400°F (200°C).

Add the vegan butter/oil to a pot and let it melt. When it's melted add in the flour and stir it vigorously with the melted butter.

Then pour in the milk and vegetable stock. Use a hand whisk to whisk out the lumps. Keep whisking until it starts to boil and then keep whisking for a few minutes after it has boiled until it thickens. It will continue to thicken as it cools, so it doesn't have to be all the way there when you remove it from the heat, as long as it has thickened considerably from when you started.

Remove it from the heat and add in the dijon mustard, nutritional yeast, onion powder, garlic powder, smoked paprika, salt and pepper and whisk in.

Stir in the mozzarella

Now your sauce is ready, you can prepare your macaroni.

Cook your macaroni according to the package directions and then rinse and drain.

Add the cooked macaroni into the pot of sauce and toss it up with the sauce.

Then transfer the macaroni and sauce to a 9×13 baking dish and smooth down.

Place the breadcrumbs evenly over the top of the macaroni cheese.

Cover the bread crumbs with shredded vegan cheese

Bake for 20 minutes until the topping is golden brown and crispy